See also Production/release timeline
Filming of the locations started on October 9, 1972 at the harbor in Plockton. Preliminary footage which was originally shot to make up a showreel to sell the film to studios were shot in that summer. These scenes included the aerials of the orchards (shot in South Africa), and the phallic topiary and the pregnant women touching the apple blossoms which were shot at actor David Hemming's house at Hush House Manor in Kent, England.
The crew used a converted double decker bus as a film editing and screening room. Location Studios was written on its side. You can see pictures of it here: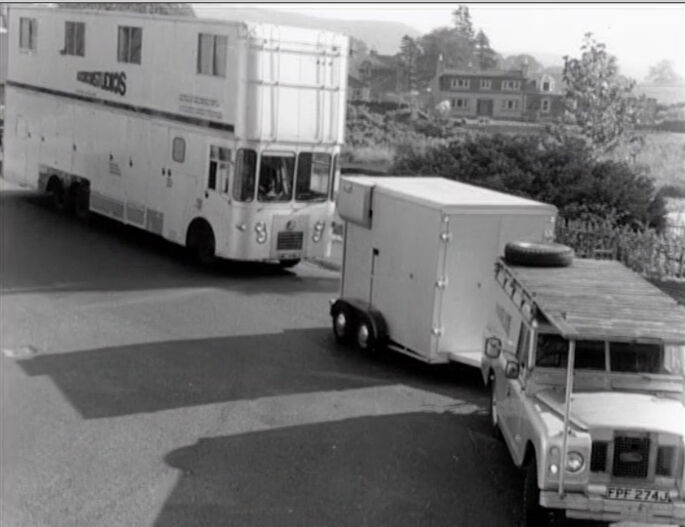 and here.
The crew of almost 70 was based in Newtown-Stewart so film was sent to Humphries Laboratories in London where it was processed, tnen sent back to Newton-Stewart.
Auditions for extras were on Douglas House on King St in Newton Stewart.
Production wrapped on November, 24, 1972. (Plus two days for a few "covering shots" - Brown)
Wrap party at the Shennanton House (Mark Sunderland), Cally Hotel (Brown)
***
Editing begins after February18, 1973. Took 3 months at Shepperton Studios.
May 10–25, 1973 Corman sees WM effigy at Cannes and asks to see the movie, when it is done…(He was told it was incomplete). He gets a 16 mm copy. 
(unknown date) British Lion (Eric Boyd-Perkins) cuts it down overnight, taking 15 minutes out, leaving us with the "theatrical version." (Trailer has an excerpt of Dr Ewan's speech and "far-out" Giovanni music that wasn't in Hardy's cut… http://youtu.be/21gb49H-Uo4)
Unknown date: The vault manager at Shepperton threw out 386 cans of negatives and trims… All had come from Humprhies Laboratories who sent all they had. All publicity materials were sent to Abraxas. Abraxas ended up with "25 (short) prints" originally struck by National General. - Cinefantastique, Vol 6, #3 (1977)
November, 1973 Film still unreleased. Missing scenes had been cut by then when Lee saw it in the projection room of British Lion - Broadwick House, Broadwick St, London, but it was 102 minutes (99 really).
December 14 1973 (and after) Released but had X rating. (So when would it have gone on tv?) 
January 13, 1974 - A ""premier" shown at the Regal Cinema, Newton Stewart. 
January 21, 1974 - Official opening was at Odeon Haymarket, London, as double bill with Don't Look Now. (a poster from its run there.)
***
The story of how an archivist at the Harvard Film Archive saved the only known-to-exist 35mm print of the "middle version" of The Wicker Man can be heard here.