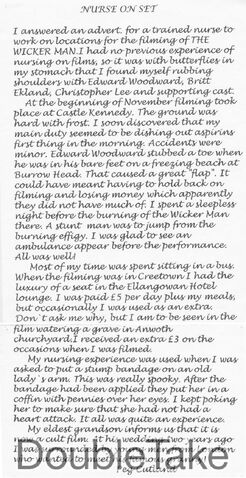 Description
Peg Cutland was hired as a nurse on-set. Here she tells of her experience. (From the Creetown Heritage Museum .)
"I answered an advert for a trained nurse to work on locations for the filming of The Wicker Man. I had no previous experience of nursing on films so it was with butterflies in my stomach that I found myself rubbing shoulders with Edward Woodward, Britt Eklund, Christopher Lee and supporting cast. 
At the beginning of November filming took place at Castle Kennedy. The ground was hard with frost. I soon discovered that my main duty seem to be dishing out aspirins first thing in the morning. Accidents were minor. Edward Woodward stubbed toe when he was in his bare feet on a freezing beach at Burrow Head. That caused a great "flap." It could've meant having to hold back on filming and losing money which apparently they did not have much. I spent a sleepless night before the burning of the Wicker Man there. A stuntman was to jump from the burning effigy. I was glad to see an ambulance appear before the performance. All was well!
Most of my time was spent sitting in a bus. When the filming was in Creetown I had the luxury of a seat in the Ellengowan Hotel lounge. I was paid 5 pounds per day plus my meals but occasionally I was used as an extra.
Don't ask me why but I seem to be in the film watering a grave in Anwoth churchyard. I received an extra 3 pounds on the occasion what is the when I was filmed. My nursing experience was used when I was asked to put a stump bandage on an old lady's arm. This was really spooky. After the bandage had been applied they put her in a coffin with pennies over her eyes. I kept poking her to make sure she had not had a heart attack. it was all quite an experience.
My eldest grandson informs us that it is now a cult film. At his wedding two years ago I was surrounded by young men from London who wanted to meet his famous granny!"
Peg Cutland
File history
Click on a date/time to view the file as it appeared at that time.
Ad blocker interference detected!
Wikia is a free-to-use site that makes money from advertising. We have a modified experience for viewers using ad blockers

Wikia is not accessible if you've made further modifications. Remove the custom ad blocker rule(s) and the page will load as expected.