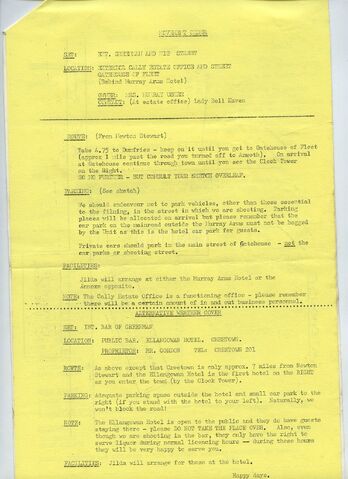 Call sheets (from an eBay sale, June 2016)
MOVEMENT ORDER
SET: EXT GREENMAN AND HIGH STREET
LOCATION: EXTERIOR CALLY ESTATES OFFICE AND STREET
GATEHOUSE OF FLEET
(Behind Murray Arms Hotel)
OWNER: MRS MURRAY USHER
CONTACT(At estate office) Lady Bell Haven
ROUTE: (Fron Newton Stewart)
Take A.75 to Dumfries – keep on it until you get to Gatehouse of Fleet - (approx 1 mile past the road you turned off to Anwoth). On arrival at Gatehouse continue through town until you see the Clock Tower on the Right. - - GO NO FURTHER - BUT CONSULT YOUR SKETCH OVERLEAF
PARKING: (See sketch)
We should endeavour not to park vehicles, other than those essential to the filming, in the street in which we are shooting. Parking places will be allocated on arrival but please remember that the car park on the mainroad outside the Murray Arms must not be hogged by the Unit as this is the hotel car park for guests. 
Private cars should park in the main street of Gatehouse – not the car parks or shooting street. 
FACILITIES
Jilda will arrange at either the Murray Arms Hotel or the Annexe opposite.
NOTE: The Cally Estate Office is a functioning office – please remember - there will be a certain amount of in and out business personnel. 
ALTERNATIVE WEATHER COVER
SET INT. BAR OF GREENMAN 
LOCATION: PUBLIC BAR, ELIANGOWAN HOTEL. CREETOWN. 
PROPRIETOR: MR. GORDON TEL: CREETOWN 201
ROUTE: As above except that Creetown is only approx. 7 miles from Newton - Stewart and the Ellangowan Hotel is the first hotel on the RIGHT as you enter the town (by the Clock Tower).
PARKING: Adequate parking space outside the hotel and small car park to the - - right (if you stand with the hotel to your left). Naturally, we won't block the road!
NOTE: The Ellangowan Hotel is open to the public and they do have guests staying there – please DO NOT TAKE THE PLACE OVER. Also, even though we are shooting in the bar, they only have the right to serve liquor during normal licencing hours -- during these hours they will be very happy to serve you.
FACILITIES
Jilda will arrange for these at the hotel.
Happy days.
My notes:
Could be related to call sheet #31, 11/13 which has Cally on it.
Lady Bell Haven = Belhaven? Bellhaven?
Murray Arms Hotel, Gatehouse of Fleet
http://www.themurrayarmsgatehouse.com
directly across the street from the Cally Estate Office.
the Annexe opposite…is the annex (she has a typo), aka The Saw Mill House which is at the other end of Ann St. The Murray Arms took it over in the mid-1900s. See these links for more info:
http://www.gatehouse-folk.org.uk/userfiles/files/Ann%20Street%20property/Saw%20Mill.pdf
https://www.google.com/maps/@54.8824378,-4.1796564,3a,75y,65.94h,90t/data=!3m6!1e1!3m4!1s6MfBDo5Yb5-hLW-shDQSsg!2e0!7i13312!8i6656!6m1!1e1
OWNER: MRS MURRAY USHER
She was the major landowner in the Gatehouse area as well as being a farmer and hotelier.
Green Man/Ellangowan Hotel
PROPRIETOR: MR. GORDON TEL: CREETOWN 201
See also his article (letter) in Nuada #1. 
File history
Click on a date/time to view the file as it appeared at that time.
Metadata
Ad blocker interference detected!
Wikia is a free-to-use site that makes money from advertising. We have a modified experience for viewers using ad blockers

Wikia is not accessible if you've made further modifications. Remove the custom ad blocker rule(s) and the page will load as expected.