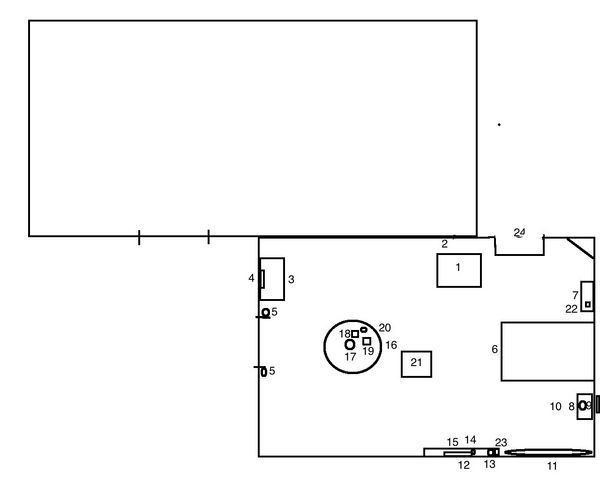 Description
Howie and Willow's rooms during Willow's dance index

Howie's room
1 - Howie's comfortable chair (has his uniform draped over it, hat to the left.)
2 - picture that has ancestors in circle
3 - table with wash bowl, mirror, his valise.
4 - a picture on the wall, landscape scene with tree on the right
5 - vine curtains on either side of window Howie looked out before. Note how shadow of light is from the right as Willow's room would off to that side.
6 - Howie's bed
7 - bureau to the left of Howie's bed
8 - bureau to the right of Howie's bed
9 - flower pot on #8
10 - picture above #8
11 - vine curtain along wall. 
12 - white mantlepiece (was protrusion in earlier scene)
13 - flower pot with flowers (same flowers as in #9)
14 - brass bell (to ring for room service?)
15 - picture above mantlepiece
16 - round table
17 - lamp
18 - diary
19 - unknown book
20 - pen
21 - chair
22 - unknown book, probably a bible
23 - another book
24 - door, with three coat hooks on it (camera stares at it as if Willow is behind that wall)

Willow's room
1 - round table to left of the bed as we face it
2 - lamp on table
3 - paper mache flowers propped up in corner
4 - blue picture on wall
5 - wall Willow is banging wrist against. Howie should be behind that wall…
6 - a bureau with a tile backboard and an oval mirror above it (see cotten puffs shot only in Directors Cut)
7 - a winter scene
8 - two more paintings, darkly lit
9 - a larger painting, darkly lit
10 - curtains with floral pattern. Can see bedposts so it is apparently at the opposite side of the room but at a slight angle to the right. (not drawn as such on my map.)

11 - guessing what side of the room we are looking at, I am putting the fireplace here.

12 - picture with red matting of blue sky and boat

13 - china pot with cover

14 - candlestick holder

15 - javanese shadow puppet?

16 - white egg

17 - large butterfly in plastic frame

18 - large floral spray in front of fireplace

19 - cat clock

20 - door. Note double sides to it on Willow's side. She is looking to the left the whole time and then turns to face the door.

to Willow's room from first full rear shot now curtains on the other side of the room seen before, will be placed approximately as we don't see them yet.
21 - statute on a stand, that Willow rubs the head of
22 - corn dolly hanging on wall
23 table in the foreground, hard to see more detail about it
24 - possible air conditioner! with some objects on it.
25 - picture above statue that Willow rubs the head of, a landscape, hill to the right, seaside, beach in forefround
26 - lamp on (table in the foreground?)
27 - brass kettle with handle
28 - book shelf
29  - window that she bangs the sides of
30 - shutters
31 - (The shutters are GONE…) corn dolly
32 - picture of person with umbrella on large animal
33 - bureau
34 - Indian decorated elephant

35 - protrusion

36 - 2 sticks and wood (driftwood?)

37 - landscape picture, greenish

38 - chair with teddy bear in it

39 - round table with lamp and lace on it

40 - Willow full rear shots, dancing to this wall

41 - see butterflys on wall only in Director's Cut
Appears on these pages

of
I have divided them up into separate groups, as they are seen in the movie. Ideally one plan...
File history
Click on a date/time to view the file as it appeared at that time.
Ad blocker interference detected!
Wikia is a free-to-use site that makes money from advertising. We have a modified experience for viewers using ad blockers

Wikia is not accessible if you've made further modifications. Remove the custom ad blocker rule(s) and the page will load as expected.