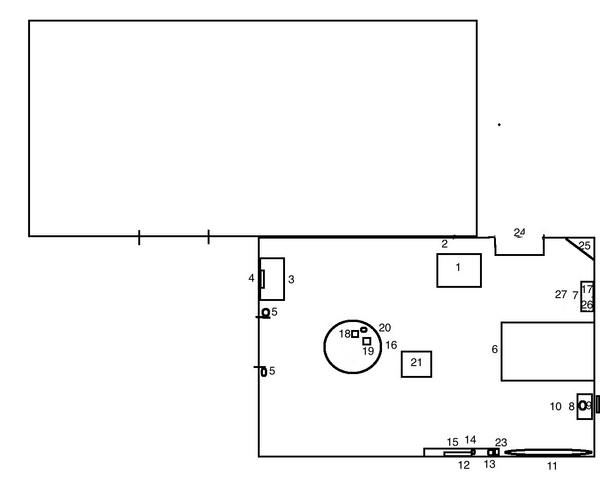 Description
Howie's room when Willow brings him breakfast

1 - Howie's comfortable chair (has his uniform draped over it, hat to the left.)
2 - picture that has ancestors in circle
3 - table with wash bowl, mirror, his valise
4 - a picture on the wall, landscape scene with tree on the right
5 - vine curtains on either side of window Howie looked out before. Note how shadow of light is from the right as Willow's room would off to that side.

6 - Howie's bed

7 - bureau to the left of Howie's bed

8 - bureau to the right of Howie's bed

9 - flower pot on #8

10 - picture above #8
11 - vine curtain along wall. 
12 - white mantlepiece (was protrusion in earlier scene)
13 - flower pot with flowers (same flowers as in #9)
14 - brass bell (to ring for room service?)
15 - picture above mantlepiece
16 - round table
17 - lamp
18 - diary
19 - unknown book
20 - pen
21 - chair
22 - unknown book, probably a bible
23 - another book
24 - door, with three coat hooks on it (camera stares at it as if Willow is behind that wall)

The next morning
25 - triangular cabinet
26 - Howie's watch (only seen in one shot in the Director's Cut the night before)
27 - another landscape picture of a tree hanging above bureau to the left of Howie's bed (as we face it).
Appears on these pages

of
I have divided them up into separate groups, as they are seen in the movie. Ideally one plan...
File history
Click on a date/time to view the file as it appeared at that time.
Ad blocker interference detected!
Wikia is a free-to-use site that makes money from advertising. We have a modified experience for viewers using ad blockers

Wikia is not accessible if you've made further modifications. Remove the custom ad blocker rule(s) and the page will load as expected.