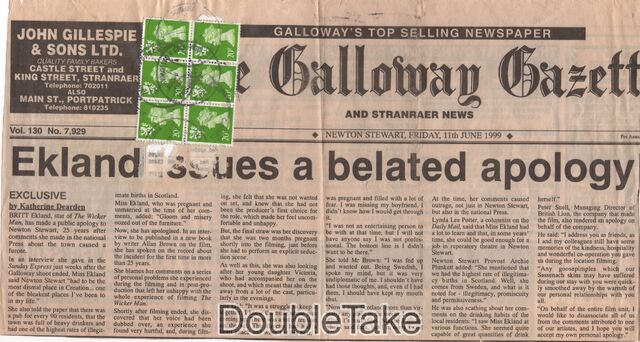 Description
Galloway Gazette, FRIDAY, 11th JUNE 1999 
Ekland issues a belated apology
EXCLUSIVE
by Katherine Dearden
BRITT Ekland, star of The Wicker Man, has made a public apology to Newton Stewart, 25 years after comments she made in the national Press about the town caused a furore.
In an interview she gave in the Sunday Express just weeks after the Galloway shoot ended, Miss Ekland said Newton Stewart "had to be the most dismal place in Creation... one of the bleakest places I've been to in my life."
She also told the paper that there was a pub for every 90 residents, that the town was full of heavy drinkers and had one of the highest rates of illegitimate birthS in Scotland.
Miss Ekland, who was pregnant and unmarried at the time of her comments, added: "Gloom and misery oozed out of the furniture."
Now, she has apologised. In an interview to be published in a new book by writer Allan Brown on the film, she has spoken on the record about the incident for the first time in more than 25 years.
She blames her comments on a series of personal problems she experienced during the filming and in post-production that left her unhappy with the whole experience of filming The Wicker Man.
Shortly after filming ended, she discovered that her voice had been dubbed over, an experience she found very hurtful, and, during filming, she felt that she was not wanted on set, and knew that she had not been the producer's first choice for the role, which made her feel uncomfortable and unhappy.
But, the final straw was her discovery that she was two months pregnant shortly into the filming, just before she had to perform an explicit seduction scene.
As well as this, she was also looking after her young daughter Victoria, who had accompanied her on the shoot, and which meant that she drew away from a lot of the cast, particularly in the evenings.
She said "It was a struggle to keep it together. I knew the nude scene was coming up. There was a lot of tension on the set. The director had had a heart attack and wasn't at his best. I was pregnant and filled with a lot of fear. I was missing my boyfriend. I didn't know how I would get through it."
"I was not an entertaining person to be with at that time, but I will not have anyone say I was not professional. The bottom line is I didn't want to be there."
She told Mr Brown: "I was fed up and wanted out. Being Swedish, I spoke my mind, but it was very undiplomatic of me. I shouldn't have had those thoughts, and, even if I had them, I should have kept my mouth shut."
"Now I love Scotland more than virtually any place in the world. I understand its harshness. Maybe I meant what I said then, but I'm sorry I said it."
At the time, her comments caused outrage, not just in Newton Stewart, but also in the national Press.
Lynda Lee Potter, a columnist on the Daily Mail, said that Miss Ekland had a lot to learn and that, in some years time, she could be good enough for a job in reperatory theatre in Newton Stewart.
Newton Stewart Provost Archie Plunkett added: "She mentioned that we had the highest rate of illegitimacy births in Scotland. Well, she comes from Sweden, and what is it noted for - illegitimacy, promiscuity and permissiveness."
He was also scathing about her comments on the drinking habits of the local residents: "I saw Miss Ekland at various functions. She seemed quite capable of great quantities of drinkherself."
Peter Snell, Managing Director of British Lion, the company that made the film, also tendered an apology on behalf of the company.
He said: "I address you as friends, as I and my colleagues still have some memories of the kindness, hospitality and wonderful co-operation you gave us during the location filming."
"Any goosepimples which our Sassenach skins may have suffered during our stay with you were quickly smoothed away by the warmth of our personal relationships with you all."
"On behalf of the entire film unit, I would like to disassociate all of us from the comments attributed to one of our artistes, and I hope you will accept my own personal apology."
File history
Click on a date/time to view the file as it appeared at that time.
Metadata
Ad blocker interference detected!
Wikia is a free-to-use site that makes money from advertising. We have a modified experience for viewers using ad blockers

Wikia is not accessible if you've made further modifications. Remove the custom ad blocker rule(s) and the page will load as expected.