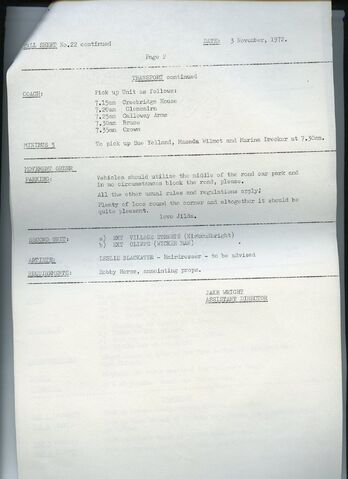 Call sheets (from an eBay sale, June 2016)
CALL SHEET No. 22 continued 
Date 3 November, 1972.
Page 2
- - - - - -- - ---
TRANSPORT continued
COACH: 
Pick up Unit as follows:
7.15am Creebridge House 
7.20am Glencairn 
7.25am Galloway Arms 
7.30am Bruce 
7.35am Crown
МINIBUS 3. To pick up Sue Yelland, Masada Wilmot and Marina Drecker at 7.30am.
MOVEMENT ORDER
PARKING: Vehicles should utilise the middle of the road car park and in no circumstances block the road, please.
All the other usual rules and regulations apply!
Plenty of loos round the corner and altogether it should be quite pleasant. 
love Jilda.
SECOND UNIT: 
a) EXT VILLAGE STREETS (Kirkcudbright) 
b) ЕXT CLIFFS (WICKER MAN)
ARTISTE: LESLIE BLACKATER - Hairdresser – to be advised
REQUIREMENTS: Hobby Horse, annointing props. 
JAKE WRIGHT
ASSISTANT DIRECTOR
My notes
Creebridge House Hotel, Newton Stewart
Galloway Arms Hotel, Newton Stewart (or was it  Crocketford?)
The Bruce Hotel, Newton Stewart
The Crown Hotel, Newtown Stewart
Jilda is Jilda Smith, location manager.
Second unit is shooting the village streets of Kirkcudbright (people looking out of windows?) and the cliffs at Burrowhead.
Why would they need the hobby horse and "anointing props"? (misspelling corrected or is that how the English spell it?)
File history
Click on a date/time to view the file as it appeared at that time.
Metadata
Ad blocker interference detected!
Wikia is a free-to-use site that makes money from advertising. We have a modified experience for viewers using ad blockers

Wikia is not accessible if you've made further modifications. Remove the custom ad blocker rule(s) and the page will load as expected.